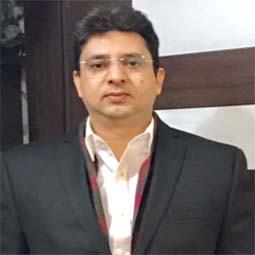 From The Chairman's Desk
Dear Parents
St. Sai Sen. Sec. School has carved a niche for itself over a period of two decades. Our relentless efforts in imparting quality education through participatory teaching methodologies and pedagogical tools helped in chiseling the personality of the students.

Our school is not just an Educational Institution, it's a commitment towards building a new generation of smart and capable individuals, the custodians of the future. We always remain in constant process of building upon our common intellectual wealth to leverage success in academics, sports and other extra-curricular activities.


St. Sai's smart involvement for enriching the knowledge of students and enhancing the quality of education is a constant endeavour. The confidence gained by our school in grooming the students, at last after making a good number of permutations and combinations, it has been finally decided to cut the ice by widely opening the doors of our school to wipe out the the boundaries and barriers.


Above All, the student fraternity groomed by our school, who are well placed in the society is a cornerstone for the competence and reputation.
I wish all my dear students; the innumerable of smooth successes ahead.